Fast, Precise Hole Drilling with Reliable Wall Breakthrough Detection. Accurate Detection Without Interference
Effective wall breakthrough detection
without back wall impingement

Holes in turbine blades or vanes remain critical to preventing the overheating during the engine use. One of the most important step processes is to produce the critical cooling holes in these turbine and jet engine components. On the manufacturing technologies of these strategical parts as the resulting hollow casting structure, the EDM drilling of these holes has always been a major step with the consideration of the non-back wall impact machining or more, on the over-drilling result. Nowadays the improved casting process can provide interior complex cavities with narrow profiles of around 0.5 mm wide. Casting variation within the hollow structure are always possible and increase the difficulties of the drilling process, to keep the electrode by the short entering cavity and avoiding to even touch the back wall.
Based on a long experience and technological know-how on the perfect hole processing control, we SARIX have introduce, since our establishment, the SX-MPS generator with an effective accurate breakthrough electrode detection control software. The advance Micro EDM drilling controller enables fine servo sensing to detect any change occurring in the parameters while drilling the wall cavity. 
Effective breakthrough detection without back wall touch  
Not only perfect round, but diameter variation size- geometry, complex 3D shape, diffuser holes that lead into the finished through hole processing can be achieve by effective wall through breaking detection.

Efficiency drilling monitoring
The efficiency of this monitoring device with the algorithms control allows also adapting the drilling process within the electrode wear to the effective situation. This enables the machine to control the drilling depth accurately and to reduce or eliminate instances the real back wall impingement. It also improves drilling rates and reduces electrode wear, achieving more holes per electrode. Taking advantage now on the new PULSAR generator, supported by the ADP® device, the ability of the controller on faster drilling, improves the accuracy and the reliability of the breakthrough detection device.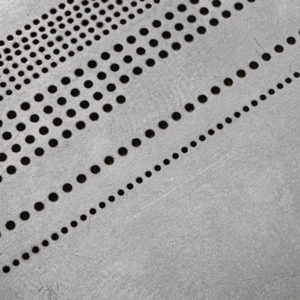 Although these performing process benefits are significant for the aerospace industry implying large quantity of holes to be produced, these advantages are well applied on other drilling market application such as medical, micro-mechanics or even on the automotive industry…
Perfect immediate breaking wall interaction process
Hole angle sensibility to follow complex casting profile
Faster effective drilling process by each hole drilling adaptive case
Finished through hole drilling certification
Breakthrough detection applied by hole diameter size calibration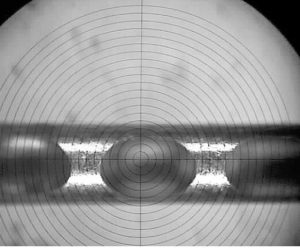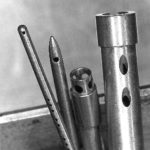 We meet your most demanding micro drilling challenges!
Contact us for a free sample test!