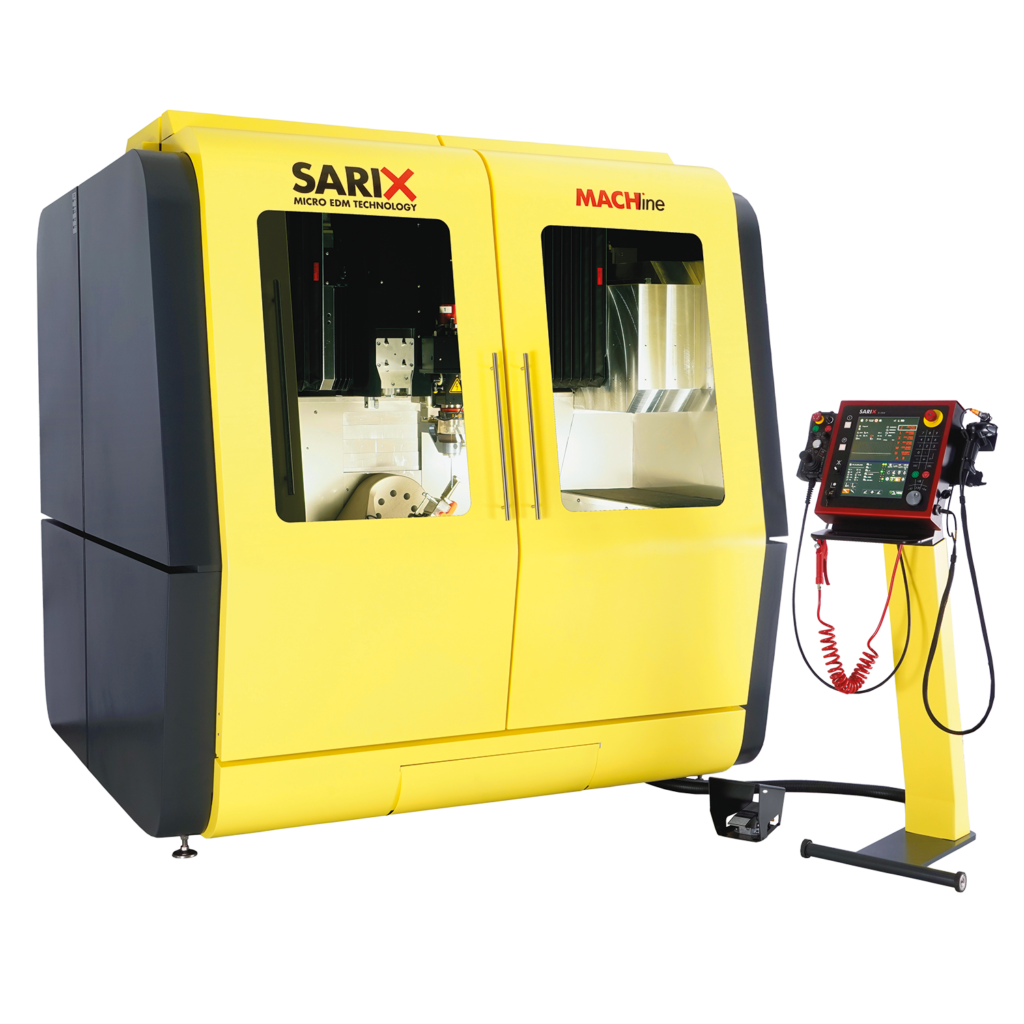 Micro EDM Machining Center MACHLine
Twin Axis Processing Combination
Micro EDM Drilling
Micro EDM Sinking
Wire EDM Electrode grinding
3D Micro EDM Milling
3D Scope Measuring
Micro Laser Ablation
TRAVEL AXIS: X=850 Y=500 Z=100 W=480  L(Z2) = 100 (mm)
POSITIONING PRECISION: 
± 5.0 µm, Resolution = 0.1 µm
AXIS FEED RATE:  Linear axis 1200 mm/min
MACHmilling 5 axis
The micro EDM core with up to 2 process heads is positioned by the basic U-V axis
Automatic electrode feeding spindle with C indexing function
Wire EDM electrode grinding device for micro round and complex shaped electrode (Laser electrode measurement as option)
3D Model programming with the SX-3D Milling CAM software package
INNOVATION
SARIX maintains his commitment to a continuous innovation of the micro EDM technology with the introduction the new MACHLine machining centers. The MACHLine is a family of Micro EDM machining centers and contain a unique combination of high precision machining capability to process real 3D complex structure.
The possibility to combine multiple machining processes is another unique feature of the MACHLine series.
TECHNOLOGY
The constant development of the SARIX Micro EDM Technology has orientated the innovative design of the EDM axis of the MACHLine series. All EDM axis are concentrated in a core unit, a X-Y-Z module that is lightweight, very accurate and with high dynamic. Large positioning axis U, V, W applies the micromachining precision to larger parts. SARIX has also improved its Deepest Drilling Technology with devices that now can drill 100 microns holes with stringent tolerances, in up to 15 mm tungsten carbide.
PROCESS VERSATILITY
The EDM core module carries two Z-axis that can be fitted with independent process unit: the Twin Axis capability. Customer can choose the best head configuration for the maximal performance. The Twin Axis system can accept for example, a roughing and a finishing Micro EDM milling spindle. In another configuration one Micro EDM head and the 3D Scope measurement unit allow in-process part measurement without dismounting the work piece.
Process combination on the Twin axis unit can also be extended to complementary processes like Micro EDM and Micro Laser Ablation as proposed by SARIX for aircraft and the gas turbine industry for ceramic-coated components …
PRODUCTIVITY
All features of the MACHLine models are optimized for productivity. The optional tool changer unit automatically loads electrodes of different diameter.
The new multi-diameter collet can change the working diameter and maintains optimal flushing conditions with each diameter.
The large displacement of the U, V, W axis allow to machine large parts or the loading of multiple part pallets. In the MACH Milling model the machine has the combination of the Wire EDM Grinding device, the SX-Arianne for the micro electrode shaping.