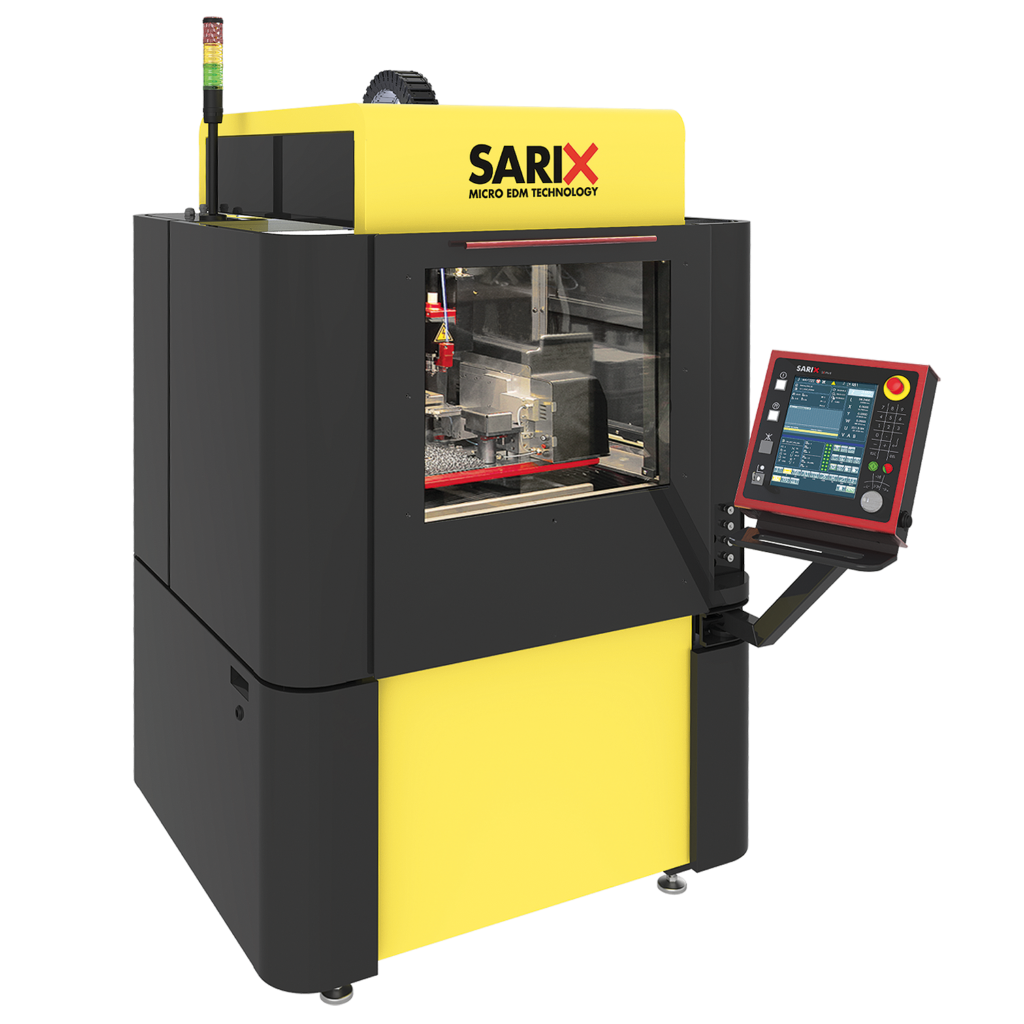 High precision Micro EDM machine
3D Micro EDM Milling
Micro sinking with high surface finishing
Precision hole drilling
High speed Micro EDM drilling
Start hole
TRAVEL AXIS: X=300 Y=150 Z=200 (mm)
POSITIONING PRECISION: 
± 2.0 µm, Resolution = 0.1 µm
AXIS FEED RATE:  Linear axis 1200 mm/min 
The closed cell SX100-hpm configuration is perfect for the high production line as well as any high precision prototyping machining.
SX-HMI, "On-board" swing arm console interface user friendly with full color touch screen panel and joypad along with the monitoring of the entire machining process.
Additional options on this latest design like the W back slide axis (Z2), DFC dynamic flow controller and the A/B rotary axis helps easily the micro-machining of medium size complex components.
The capacity of the SX100 PULSAR machine brings new innovative "multi-axis-motion" as the 3D high precision Micromachining.
SX-MPS PULSAR, high performance SARIX Micro Pulse Shape EDM generator, with its associated Technology opens up new opportunities for smaller, deeper and more precise perfect holes.
The multi-axis CNC allows the indexing of complex work pieces where the performance of the Micro EDM Machining is requested.
"High production capability concept" through an efficient Multifunction Micro Machining machine with; slide W-axis (Z2), C-indexing spindle, A/B positioning indexing axis and multiple hole sequence process…
SX-HMI, "On-board", easy and user friendly unlimited programming and editing software.
High precision Automatic electrode refeeding spindle with dielectric or air clamping control for continuous production.
High Speed Micro EDM drilling Technology with breakthrough-detection device.
High surface finishing capability down to Ra 0.1 and Ra 0.05 with the Micro Fine Pulse Shape generator SX-MFPS PULSAR.
Micro EDMing machining technology with solid and tube electrode from 45 Microns to 3.0 mm.
Micro Holes, high Precision Micro holes and shape holes down to 20 Microns.
High precision positioning accuracy up to ±1 Micron.
Automatic axis positioning control with depth control.
*(on optioN)