SARI

X
celebrate our 30th anniversary as Micro EDM Technology world leader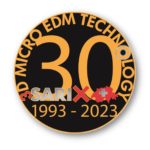 SARIX celebrates 30 years of leadership in Micro EDM technology with special offers for our customers.
We pride ourselves on our commitment to providing updates and performance improvements for our machines, even after years of use.
SARIX EVOLUTION IN CONTINUITY
In today's competitive market, customers not only require reliability from their equipment,
but also constant quality, performance, and the ability for technological evolution over the years.
SARI

X

upgrade packages provide this evolution on all of its machines,
preserving your machine investment for a long time.
---
SARI

X

30th Anniversary NEW CNC UPGRADE OFFER
Machine software and hardware "evolution in continuity"
Industry 4.0 compliant
●

S

X

CNC/PC UPGRADE 
for SX machines models

SX-HMI Full stainless-steel interface keyboard IP65,
machine program editing, DXF drawing display and programming.
●

S

X

-SDS SARIX DIGITAL SERVICES
optimized preventive and prescriptive maintenance

Guides the operator and maintenance technician in performing the necessary operations to ensure optimal machine condition,
production quality and reducing the maintenance costs.

The maintenance manager can adapt the plan of his workshop to the specific needs.

Possibility to restrict each maintenance operation to a specific user level.
Implements periodic, preventive, condition-based and predictive maintenance.